Dr. Jeanette has released her new book: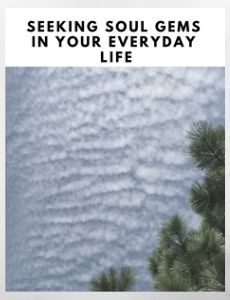 SEEKING SOUL GEMS IN YOUR EVERYDAY LIFE
Download it now for free!
The book is intended to help you feel real again when you feel broken in heart, body and spirit.
Download it now and find the private session discount coupon inside!
The end of the year is upon us and seasons are changing; are you feeling it in your body with aches and pains or perhaps in your emotions with stress and engaging with others?
If you are visiting relatives this holiday season and issues arise that you just cannot do anymore and wish to change the experience you are having;
download this book and share with others
you can make a conscious choice to step out of the place you are in
you can choose to not engage and stir the pot
you can choose to request a session to speak with Dr. Jeanette (holiday times are open)
you can decide that it just takes too much effort to change the 'same old thing' and stay right where you are and be miserable
Dr. Jeanette offers several types of sessions to meet your physical, emotional and spiritual needs. You can find tons of information that may answer your questions or connect you with the support you are seeking:
Holiday Season Sessions:
Available from early morning through evening, including weekends and holidays. If you are in need of someone to talk to, reach out and schedule a time today.
To get started, go to the contact us page of either website and send Dr. Jeanette a note. She will respond within 12 hours via email.
Happy Holidays!