by Ariane de Bonvoisin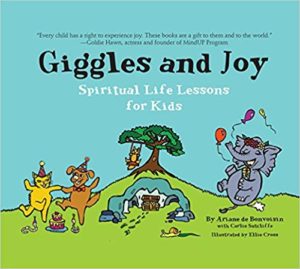 I have a son called Everest, who has proudly just turned 5. (And started Kindergarten he would add!) Nothing however makes him more happy, excited and I guess proud of his blossoming relationship with the elders he sees in his New York city neighborhood.
It all started one day when he was walking home from his martial arts class, still in uniform, and noticed an old man with a walker, walking I might add, very slowly. Everest said "Hi". The man didn't hear or notice this tiny human, so Everest tried again, this time a little louder. "HI. HAVE A GREAT DAY" This elderly man, trying his best to get somewhere through the busy streets of the Upper West side, turned to look at him and woke up. It was a precious moment for both of them.
The man felt seen, witnessed, noticed and even important in the eyes of a child.
The child felt seen, witnessed, noticed and also important in the eyes of this man.
Now Everest loves walking out the door and going on a search for people who are ignored, sad, by themselves, old, not smiling and simply saying those simple words: 'Hi, have a great day'. And then he waits patiently for the smile or the response. It fills up his bucket and of course, theirs.
I've watched him do this a few dozen times now. It has awakened me and certainly them. Why don't we notice others? Why do we ignore the elderly and all they have to share? Why do we cut ourselves off from simple connections with our fellow beings?
When I asked Everest what his mission here on Planet Earth was, he of course said, " to say Hi to people and see them smile".
Pretty simple when you think of it, don't you think?
Ariane and Dr. Jeanette Gallagher engaged in a conversation that could bring tears to your eyes, telling stories of love, loneliness, elders and the young. Listen here
Ariane de Bonvoisin is the author of a new trilogy of books called, Giggles and Joy; Spiritual Life Lessons for Kids. Her work can be found at www.arianestudio.com