Copyright 2010 Out of the Box Healthcare All Rights Reserved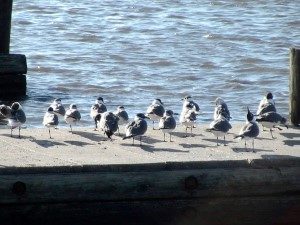 Notice anything in this picture? We did. We thought perhaps the bird just had it's leg up or it was turned. So we decided to check our other five photos of the same birds. We discovered that the same two birds had only one leg. Yet, if you were not looking for it, you would not have noticed it.
So, if you are in a group of people, do you know all there is to know about them? Are they standing on one foot?
If you walk down your street and look at the same houses, are they the same on the inside? Are they still making it during this economic decline?
If you are in a group of children at an Easter egg hunt, do you know how many of those children could really use extra medical attention? Do you know how many are included in the Autism spectrum? Do you know how many have been to the dentist in the last year?
If you are at church, can you look around at the same people who have been there over the years and wonder how many may line up at another church's food bank so no one will know they need help?
Notice: if you take your hand and cover only the legs of the birds, the rest of the picture still looks normal, right? How are you fooling the people around you? How are you not asking for help? How are you not willing to ask others if they would like help? Are you willing to give unconditionally, or do you gossip relentlessly?
Who are you, truthfully?