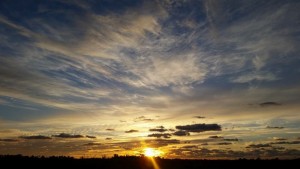 Who are we?  What is our life made of?  What have we done in our life?

Are we measured by what outward accomplishments we have accumulated and what others believe us to be?

Our lives pass so very quickly and rarely do we take time to stop and reflect on who we really are and what we are really made of.

At birth, we seem to be put on the fast track of living up to the beliefs and trends of our ancestors or peers.

We grow up to become that which we feel comfortable in becoming with the greatest of ease.

Throughout our lives there are events that challenge our morals, core beliefs and heart felt soul intentions.

How have you weathered the storm of life?

Perhaps each rock in the river is always a time to start a new sunrise and spread your wings to honor your spirit.

Each day is a choice to rise up before the sunset of our lives.

Remember, the sunset may bring the end of life as we know it now but then and only then will we get a new book to open and new way of life to be in.

Don't rush or spoil the secret of the next phase of your life, it was meant to be a gift and not opened too soon.

Until then, rise up, soar with your wings and be thankful for every second.

~ Dr Jeanette Gallagher
This page will have inspirational postings or phrases that are meant to 'turn something inside you' and uncover what wants to be heard and healed.  Agree, disagree, be aggravated, feel peace or just tuning it out are all great responses to these postings.  We are all individuals and at different times in our lives, challenges wear different coats of colors.  Be present, note what comes up for you and allow it to surface.  Compassionate support is available for the asking, schedule your time here.